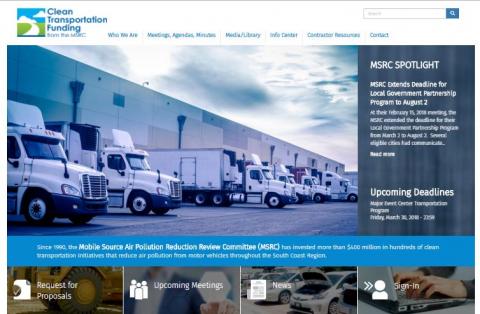 The MSRC is proud to announce that its multi-functional website has been upgraded and updated to the latest web platform and now features a more user-friendly interface.
Visitors can learn about the MSRC's latest funding opportunities, public meeting schedules and find out about current and previous projects and initiatives to help achieve the MSRC's mission of reducing emissions and improving the air quality for LA, Orange, San Bernardino and Riverside
Counties.
While redesigned, the MSRC's website still contains all the information you need to learn about funding opportunities for clean transportation investments in Southern California. Visitors are encouraged to check out the latest funding opportunities from the MSRC as well as a robust directory of complementary state and federal government programs that incentivize clean transportation initiatives. Additionally, the MSRC posts regular policy updates that track the latest Sacramento legislative and administrative actions and deliberations on future clean transportation policies.
Lists of the MSRC members and Technical Advisory Committee members also can be found on the site, along with some highlights on the history of the MSRC which has invested more than $400 million in hundreds of clean transportation initiatives that reduce air pollution from motor vehicles throughout the South Coast region.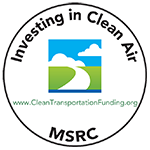 For the first time, some of the MSRC's program videos can be accessed online including two short videos promoting its previous Rideshare Thursday carpool marketing initiative and the highly successful Dodger Stadium Express clean bus service program.
The new site, which is easily accessible on a computer, tablet or mobile phone device, also features a refreshed MSRC logo and a digital badge that funding recipients are encouraged to use on their website and other digital properties. Users are also encouraged to visit MSRC's facebook and twitter feeds for regular news and program updates.
The MSRC would welcome your feedback on the new site. Please send us an email at info@cleantransportationfunding.org and let us know what you think.