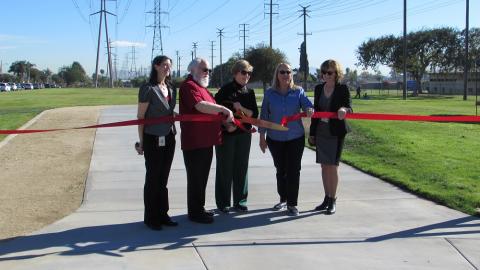 Last December, the MSRC was on-hand to celebrate the official opening of a new active transportation path designed to offer a healthy alternative to driving. Buena Park Mayor Beth Swift, Mayor Pro Tem Virginia Vaughn and Council Member Art Brown were joined by hundreds of kids to celebrate the completion of the new mile-long pathway that starts at the intersection of Knott Avenue and Thelma Avenue. The MSRC's Contracts Administrator, Cynthia Ravenstein, spoke at the grand opening, touting the benefits of getting people out of their cars and onto the new path to bike or walk to school or work instead of driving.
"The pathway project is a step in the right direction for safety and healthy living," said Dr. Elizabeth Swift, Buena Park Mayor. "It provides a safe route to school for children and their families, and it will encourage people to be outdoors and enjoy the benefits of a more active lifestyle in our community."
The pathway includes a 12-foot-wide concrete path and an 8-foot-wide decomposed granite path, ideal for walking, running, and biking. The wide, flat, handicapped-accessible surface accommodates everyone regardless of age or physical ability.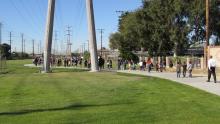 The pathway runs through the center of Buena Park (along the Southern California Edison Right of Way) where it connects with an existing pathway at Valley View Street. The trail meets up with another pathway in neighboring La Palma, and city leaders hope to be able to expand the trail to provide a seamless active transportation corridor  across the entire city.
This is Phase 1 as the City's future plans include expanding the pathway eastward adding amenities as funding becomes available. The $1.26 million project was made possible by funding from the MSRC as well as from the City's Park-in-Lieu Fund, and a grant from St. Jude Hospital.