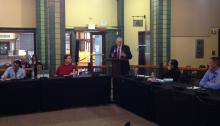 The MSRC kicked-off its 2018-20 Work Program process by hosting a series of regional workshops throughout the South Coast air basin. The MSRC conducted its fifth bi-annual "road show" in May to gather stakeholder input on ways the MSRC can be most helpful in funding initiatives that can reduce air pollution emissions from the transportation sector – the biggest contributor to our region's unhealthy air.
The ideas shared at the workshops help to inform the MSRC members as they develop the upcoming two-year funding categories for its Work Program. Nearly 100 transportation experts from both the public and private sectors, as well as members of the public, participated in the workshops that were held in San Bernardino, Riverside, Los Angeles and Orange counties.

The workshops featured introductions by many of the MSRC's leaders, including MSRC Chair Larry McCallon, Vice Chair Greg Winterbottom, former Chair Greg Pettis, Member Michele Martinez, former Technical Advisory Committee Chair Gretchen Hardison, and MSRC staff Cynthia Ravenstein and Ray Gorski. Each public meeting began with a brief overview of the MSRC and why its mission to allocate Clean Transportation Funding continues to be essential in helping the South Coast Air Quality Management District achieve its air quality goals.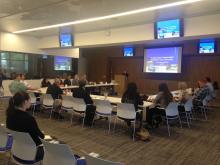 The real heart of the workshops, however, was the stakeholder dialog and interaction that followed.  Participants shared their ideas for clean transportation projects and had the chance to collaborate with others who shared helpful thoughts about ways agencies could implement these projects, in addition to receiving funding from the MSRC.
There were a wide range of priorities identified by participants for which they would like to see funding available in the future. Ideas ranged from electric vehicles and active transportation, to maintenance and operations training, to planning and research projects.
Each time the workshops are held, the MSRC members remark that they find the comments received during the workshops and the interaction they have with stakeholders to be invaluable in developing their upcoming Work Program. The project ideas discussed during the workshops, as well as the written comments submitted, will be compiled into a report that the MSRC will review as it develops its new Work Program this fall. The first round of solicitations likely will be available in the beginning of next year.