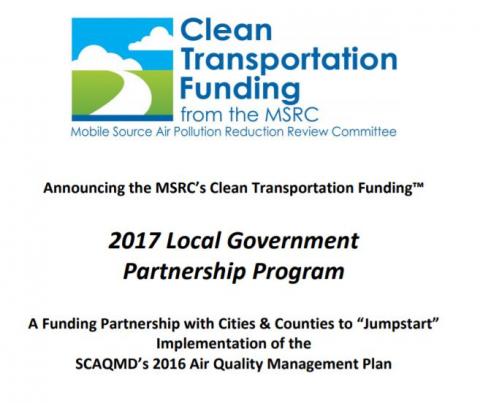 For the most recent funding cycle, the MSRC revamped its former Local Government Match Program into the Local Government Partnership Program to encourage more agencies to partner with the MSRC on clean transportation projects – and it was a success! 110 of the 162 jurisdictions eligible to participate received funding – an impressive participation rate of 68%.
This new approach to the program encouraged agencies that had never partnered with the MSRC before to participate. 31 agencies, representing 28 percent of the grant pool, were first-time program applicants who had never previously applied for funding in any local government match program.
The Local Government Partnership Program was updated from the Match Program available in previous years to offer local agencies that participate in the AB 2766 Motor Vehicle Subvention Fund Program a pro-rata share of the $21 million in available funding. This avoided the need for a competitive grant process or to only award funding on a first-come, first-served basis. The MSRC re-designed the program so that it could partner directly with eligible cities and counties to "jump-start" clean transportation projects to implement the goals of 2016 Air Quality Management Plan (AQMP) developed by the South Coast Air Quality Management District.
San Bernardino County had the highest percentage of participating agencies – nearly every eligible jurisdiction received funding. Los Angeles County had the highest number of participating jurisdictions (see chart). The MSRC allocated 72 percent of the total available funding, or $15.3 million.
Public access electric vehicle (EV) charging stations received the most requests for funding, at 29 percent, followed by medium- and heavy-duty zero emission vehicles (23 percent) and limited access EV chargers (17 percent).
The MSRC will continue to analyze the program results and use the lessons learned to help shape future funding programs that benefit local governments.