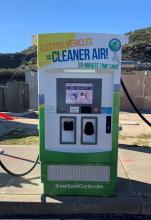 On a very windy, late January morning, MSRC Member Steve Veres joined Santa Clarita Mayor Marsha McClean and representatives from the offices of several local elected officials to cut the ribbon to officially open the City's newest electric vehicle charging station. The charger is located at the local Metrolink Station  at 22122 Soledad Canyon Road. The charging station will help further bridge the clean transportation options for local residents because commuters can now drive their zero-emission EVs to hop on lower-emission public transit.
The MSRC provided Santa Clarita with nearly $50,000 in Clean Transportation Funding from the Local Government Partnership Program to help build the new station. The EVConnect charger is a fast-charge station that has two different types of connectors, which allows a wider variety of electric vehicles to utilize the station. It is available to EVConnect members 24-hours per day/7-days per week who can pay through an app on their smart phone.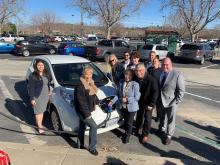 The project was not without its challenges – the site selection and electrical infrastructure upgrades took a bit longer that initially planned. However, the City went the extra mile to ensure that the public had another clean transportation option in the community. The Metrolink location was chosen to allow those committed to reducing emissions and traffic on local roadways by riding Metrolink to further contribute to protecting the environment by using the new EV charger.
This is the eighth EV charging station installed in Santa Clarita. As the Mayor noted, the new station furthers the City's mission to provide green transportation alternatives to local residents and visitors.