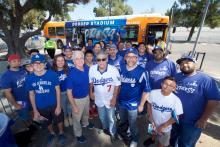 On a recent bright, sunny Sunday afternoon, MSRC Member Jack Kitowski represented the MSRC on one of the biggest stages in LA when he threw out the first pitch at Dodger Stadium as part of a promotional event to celebrate the success of the clean transportation program. August 11 was MSRC/Metro Day where members of the MSRC, including Jack Kitowski and Mark Yamarone, and members of the Los Angeles Metropolitan Transportation Authority (Metro) Board were on the field for pre-game festivities to commemorate the 9th year of the Dodger Stadium Express.
The MSRC awarded Metro more than $1.1 million in Clean Transportation Funding from its Major Event Center Transportation Program, providing half of the operating costs for the Dodger Stadium Express for the 2019 season.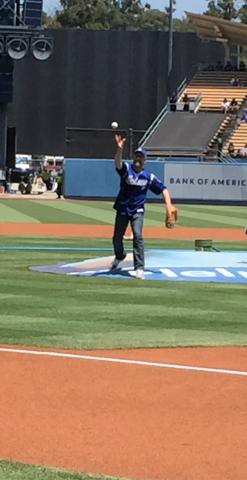 The service gets people out of their personal vehicles and helps alleviate traffic congestion, which reduces vehicle stop-and-go driving, thus cutting down on vehicle emissions that contribute to harmful air pollution. The service uses near-zero emission compressed natural gas (CNG) buses, further reducing air pollution. The Dodger Stadium Express also promotes the use of public transportation, and exposes some fans to public transit for the first time in the hopes that they will continue to ride in the future. The service encourages people to use public transit for all or at least a portion of their trip to the games by providing the essential "missing link" of public transportation to Dodger stadium.
"We like to think that it's not a coincidence that the Dodgers have been to the playoffs in the last six of the nine years that the Dodger Stadium Express has been running, and the World Series twice," Jack joked. "I was honored to represent the MSRC by throwing out the first pitch to celebrate this extraordinary clean bus program and meeting so many Dodger fans who consistently use the service and love the convenience." Last season, more than 370,000 fans took the service to Dodger games, including the playoffs.
The Dodger Stadium Express is free for riders with a game day ticket. Service from Union Station begins 90 minutes prior to the start of the games and runs until 45 minutes after the end of games. Union Station riders get to breeze through traffic via a game-day dedicated bus lane on Sunset Boulevard. Service from the Harbor Gateway Transit Center begins two hours prior to the start of the games and ends 45 minutes after games are over.
And the Dodgers ended up winning 9-3 against the Arizona Diamondbacks on MSRC Day! Another coincidence? With a big smile, Jack just held up his hands and shrugged his shoulders.