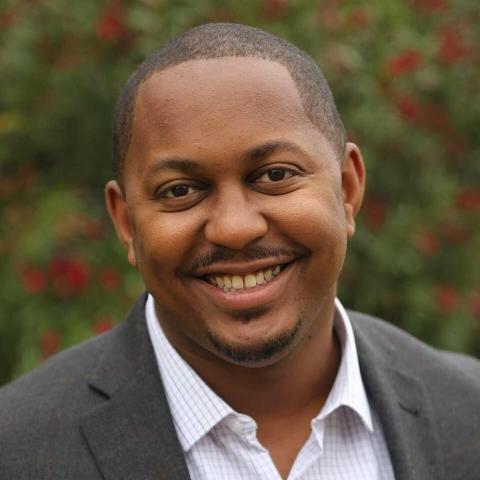 Long Beach Councilmember Rex Richardson knows that engaging communities and small businesses is especially key for designing and enacting successful and sustainable air quality policies. That's why he's especially excited to be a new member of the MSRC. He officially joined the MSRC in January as the representative from the Southern California Association of Governments (SCAG), but he has been a part of the clean air movement in the region for much longer.

Rex is the child of a military family and he moved around frequently, growing up between the Midwest and the South. He came to California as a teenager and was introduced to the Long Beach area when he attended Cal State Dominguez Hills. Honing his leadership skills, he served as student body president and became involved in advocacy work for students and then, after graduation, for workers. He was a community organizer in South Los Angeles with SEIU Local 721 representing blue collar, public sector workers who were fighting for basic dignity and better working conditions.
He joined the City of Long Beach in 2010 as Chief of Staff for then Councilmember Steven Neal, who also had roots in the labor movement. Rex lived in the district - at the intersection of the 710 and 91 Freeways - where he and all of constituents experienced significant air pollution. He describes the legacy of this region as one being dominated by industrial spaces and refineries, with poor air quality and encompassing many communities that face difficult socio-economic issues. He understood early on that, "when you have the layering of socio-economic issues with environmental issues, there is a certain set of needs and sensitivities that you need to make sure you are on the right side of." He relied on these experiences within the community to propel himself in 2014 to become the youngest Long Beach City Councilmember in history, representing the neighborhoods of North Long Beach in District 9.
Rex has first-hand experience in trying to find the right balance between the needs of small business and the need for a healthier environment. His family has a history in the trucking industry. There are several truck drivers in his family and, eventually, they formed a small logistics company located in the Inland Empire in order to provide some job stability for local drivers.
Rex explained, "the goods movement industry is a massive industry but it's really the small companies who are trying to figure out how to make sure these broad economic opportunities get passed down to the average working person so a truck driver can own a home and have benefits to provide for their family. With our family-owned logistics company, I understand the intersection between the needs of small businesses, the need to create economic opportunity by tapping into the regional economy, as well as balancing the environmental needs of those that live in freeway-adjacent communities, like those in the North Long Beach community where I live and whom I represent." These are the issues he faces everyday as a Councilmember. "How do you balance economic opportunity with the very clear demands for environmental justice? It means we have to be supportive of the best and cleanest technology and make sure it is easy and accessible to the small businesses that really make the economy run."
He has seen an improvement to the air quality around the ports since he first arrived in Long Beach. He views the Port of Long Beach as a national leader in being a green port, but there is always more to be done. "The challenge that the Port of Long Beach has really taken on is how to develop clean technologies and zero-emission corridors that still prioritize jobs, and the Port has been a leader on measures such as strategic pricing that encourage the shippers and the trucking companies to be cleaner without passing the burden down to the drivers," Rex said.
His experience with the MSRC goes back several years, where he served as Michele Martinez's alternate on the Committee. When she retired from SCAG at the end of last year, he was excited to fill the seat of his friend and mentor. "We need agencies like the MSRC to play a leadership role by understanding the need to be bold and fund projects that are transformational and that inspire other people to adopt cleaner technologies," he remarked. "We have to invest in projects that get the regular community involved, like bikeshare programs and transit oriented districts, and make sure this becomes a part of the community's vision for itself. We need to invest in areas, not just in downtown districts where we think tourists will use bicycles, but in areas where people depend on bikes and scooters to get to work and school. This is where equity comes in."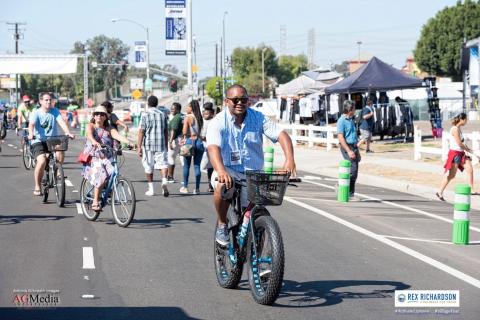 He believes that community buy-in is important for air quality projects to be successful. "Although it might not have as great a benefit as investing in a clean big rig, these on-the-ground projects will go a long way to build community support and participation, when the average worker or the average student feel that they are doing their part for the environment."
Rex has witnessed how the MSRC has supported some really catalytic projects. The MSRC helped fund a number of projects in Long Beach, including the 2016 "Activate Uptown" Open Streets event in his district, which gave residents the chance to experience the newly created protected bikeway on Artesia Boulevard and preview street safety projects to be implemented (see photo). This is a corridor to which the City had been trying to draw more attention. "Had it not been for the MSRC's funding, we would not have been able to get this area on people's radar, and since then, we have been awarded a major grant from LA Metro to do more complete streets enhancements on this corridor. This is a great example of how a little bit of investment from the MSRC can turn into a catalyst for a larger investment by other agencies," he explained.
During his tenure on the MSRC, Rex wants to work with some of the local truck retailers and small companies to create things like purchasing consortiums where small businesses can come together and buy down the cost of cleaner vehicles. He also wants to see more investment in active transportation projects in areas where we have mobility gaps. He said, "it's really like the last two miles for urban cities like Long Beach and those communities that don't have a lot of access to rail yet. So, if we can expand the conversation from last mile, to the last two miles, we will be able to impact a lot more people."
Rex sees Southern California as having a world-wide story to tell - how we have made effective investments into transforming our environment and our air quality. "If you look at the South Coast area today compared to where it was twenty or thirty years ago, there is a dramatic change in air quality. Other cities that are just starting to tackle air pollution, like Beijing which has a population size similar to ours, can learn from what we've done. And the MSRC is a critical partner to make sure that the region has the tools that it needs in order to continue to lead on air quality and environmental justice."