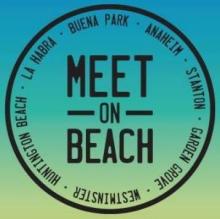 With the dog days of summer upon us, it's time to look forward to the fall, and with that cooler weather and more opportunities to spend time outdoors. For the first time in Orange County, seven cities - La Habra, Buena Park, Anaheim, Stanton, Garden Grove, Westminster, and Huntington Beach – will be hosting a multi-community festival to celebrate active transportation with an Open Streets event along Beach Boulevard on November 7 called "Meet on Beach".
"Meet on Beach" is sponsored by the Southern California Association of Governments' (SCAG) Go Human Campaign, co-funded by the MSRC. The MSRC provided the Go Human Campaign with $2.5 million in Clean Transportation Funding to host open streets events in more than two dozen cities throughout the South Coast region to engage local residents in walking and biking activities to build support and momentum for implementing more active transportation options in these communities. 
Open Streets events temporarily close normally busy streets to motor vehicle traffic in order to encourage active transportation modes such as bicycling and walking as a better and cleaner way to get around. The MSRC supports the Go Human Campaign because it is an innovative way to expose people to alternative ways of travel that gets people out of their cars and onto cleaner modes of transportation.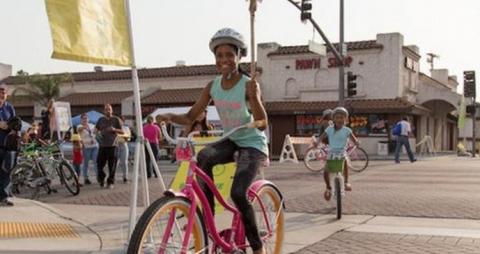 For "Meet on Beach," each city will host its own unique events connecting the seven communities together along the 21-mile stretch of Beach Boulevard – from the hills of La Habra to the ocean in Huntington Beach. These seven cities are part of the Renew Beach Boulevard Coalition, whose mission is to reinvigorate State Route 39 as a more walkable and bikeable street and revitalize the economic vitality of the historic boulevard.
The Open Streets event will include bike and pedestrian friendly activities, live performances, food, giveaways and much more at pop-up sites along or near Beach Boulevard. Some of the activities announced so far include:
Move more and eat healthy along the Coyote Creek Bikeway in La Habra

Walk, bike, skate or scoot to Knott's Berry Farm's Independence Hall in Buena Park and the West Anaheim Youth Center

Participate in hands-on workshops at Stanton's Walkable Streets Lab

Ride the bike skills course with Garden Grove's Police Department

Bike over to Westminster's Civic Center for active and healthy fun

Cruise over to Huntington Beach's Party on the Beach
Organizers of "Meet on Beach" expect to activate tens of thousands of local residents to experience active transportation in a fun and exciting way, with the goal of making biking and walking an important part of their lifestyle. For more information, please visit: https://www.meetonbeach.com/
Photos 
Front photo – meet on beach logo
Inside photo – girls on bikes