The Orange County Transportation Authority (OCTA)'s OC Flex Pilot Program has been such a success that it is extending and expanding the service through the fall. The MSRC funded the initial one-year pilot that offered a new, on-demand, curb-to-curb shuttle service in two areas of Orange County where there is not enough demand to offer traditional fixed-route transit services.
Unlimited local rides can cost customers as little as $4.50 per day for rides throughout two zones – parts of Huntington Beach and Westminster (temporarily suspended due to COVID-19), and areas of Aliso Viejo, Laguna Niguel, and Mission Viejo. Riders can use the OC Flex mobile app or call an 800 number to book their ride, and will be given an approximate wait time to be picked up at the nearest street corner. It is a shared-ride service, so other customers may be picked up and dropped off on the way to a rider's final destination. OC Flex operates seven days per week, with more limited hours on the weekend.
The MSRC provided approximately $1.15 million to help fund the pilot through its County Transportation Commission Partnership Program. The program is designed to implement transportation-related air quality improvement projects within the South Coast's four-county region. The MSRC funds were utilized to purchase and install the app hardware and software, conduct program operations, and for marketing and outreach activities.
The service is ideal for riders who are going to popular sites such as restaurants, malls, movie theaters, medical offices, and transit stops. Four OC Flex-branded transit vans, each capable of holding up to eight passengers, transport riders to their final destination. These vans are certified as low-emission vehicles.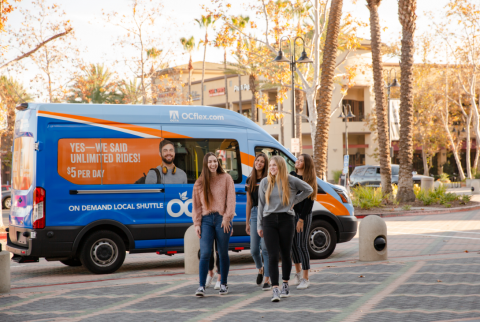 According to OCTA's Joel Zlotnik, OC Flex furthers OCTA's goals of reducing air pollution and implementing critical first-mile, last-mile strategies. "Innovative transit options in low-demand areas and connections to OC Bus and Metrolink attract people who would otherwise use their vehicles, thereby reducing vehicle miles traveled and improving air quality. OCTA set a goal for OC Flex to have 25 percent shared rides and have 25 percent of rides connect to other transit service. The pilot program exceeded both of these performance metrics with more than 37 percent of rides being shared and 32 percent of rides transferring to or from OC Bus or Metrolink service." During the pilot phase, there were nearly 37,000 boardings, with an average of 850 boardings per week.
And the service has been a hit with riders. "Passengers were surveyed and 91 percent of those who responded were 'likely' or 'extremely likely' to recommend OC Flex to a friend or colleague," explained Joel. He noted that OCTA has received multiple requests from the public, as well as city officials from around the county, to expand the existing zones and start new zones in other areas, which the OCTA will be considering in the near future.
For more information about the OC Flex program, please visit: https://www.octa.net/OCFlex/Overview/