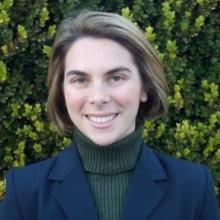 Sydney Vergis is the California Air Resources Board's (CARB's) Division Chief for the mobile source control division and one of the newest MSRC members.
Vergis is a native Californian whose grandfather was a crop-duster for local agriculture in the Central Valley. From a young age, Vergis discovered her passion for protecting public health and the environment. She started her career in land use planning in the private sector where she saw firsthand the importance of pairing development with environmental protection in ways that benefit the health and economic opportunities for local communities – a passion that she carries into her role at CARB. 
Vergis brings a wealth of experience to her role on the MSRC where she hopes to contribute to the MSRC's important Goods Movement portfolio of clean transportation investments including heavy duty truck transportation and warehouse trucking. She also believes the MSRC can play a strong role in supporting municipal and regional transit electrification projects that are vital to contributing towards improving air quality in Southern California.
Vergis earned her PhD in transportation technology and policy at UC Davis where she focused her studies on what contributes to successful zero-emission vehicle (ZEV) deployment. This work led her to a career path at CARB where she initially focused on modeling transportation impacts of agency policies. She quickly rose to manage CARB's Goods Movement Section and then led the legislative affairs division, guiding CARB's regulatory and legislative priorities.
Outside of work, Sydney enjoys cycling and hiking. She has biked the Danube River from eastern Germany to Vienna, Austria, and previously cycled to the top of Mont Ventoux—the nearly 2,000-meter mountain known as the "beast of Provence" that has tested Tour de France riders (her time was notably slower). "Being in the mountains, the valleys, and along the rivers reminds me to appreciate nature and my small role in protecting it," said Vergis.
Vergis is especially excited to now serve as the CARB division chief focused on implementing Governor Newsom's Executive Order to achieve 100% zero emission vehicles. "We need to use every policy and fiscal tool that we have in the toolkit to achieve California's ambitious goals," Vergis says. She is inspired to help lead the team combining targeted incentives and smart regulations to bring zero emission cars, buses and trucks to the communities that need them the most. She also looks forward to bringing that expertise and state policy perspective to the MSRC. In her first meetings with the MSRC, Vergis observed how everyone brings such a wide variety of practical expertise and experience to successfully bring ZEV projects to fruition, and she looks forward to learning more about the opportunities and challenges to helping scale those projects throughout the Southern California region.
While focused on the California ZEV marketplace, where the state's number one export is electric vehicles, batteries and components, she is also mindful of the increasing global activity on ZEV deployment in Norway, China, and other countries that are ramping up their investments in this space. Vergis sees California state and regional policies and investments as critical to attracting and keeping manufacturers and the clean transportation jobs in California.
Vergis is motivated by the idea that technology, innovation, and thoughtful public policy can truly help society transform our transportation system to a more sustainable future, and is enthusiastic about helping the MSRC continue its three decades of leadership in cleaning up the air.