For the fourth consecutive year, the MSRC is proud to support California Clean Air Day taking place this year on Wednesday, October 4th.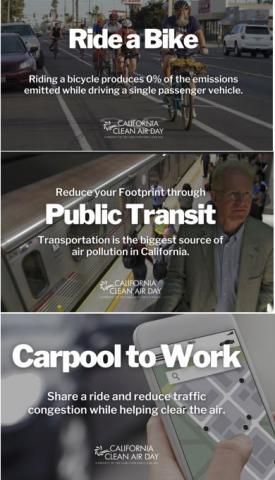 The Coalition for Clean Air spearheads this annual event to bring people together to take action to improve our community health by engaging in activities to clean up the air in California. Whether it's an individual, business, government agency, or nonprofit organization, there are things we all can
do to improve air quality and protect public health, especially in the transportation arena, such as taking public transit, biking or walking to work, or carpooling. Last year's event was the most successful to date, with more than two million Californians pledging to act. 
For more than 30 years, the MSRC has been working every day to make it a clean air day in the South Coast region by investing over $450 million in clean air projects to reduce emissions from motor vehicles. The MSRC pledges to continue to prioritize local investments in clean transportation solutions that will benefit the millions of people who suffer from some of the poorest air quality in the country.
Learn more about how you can pledge your support for California Clean Air Day here.