Volvo Financial Services (VFS) is assisting its customers that are transitioning to electric vehicles. VFS applied to the MSRC's Inland Ports Program and was awarded more than $3.9 million towards the lease of 14 battery-electric trucks and infrastructure.
VFS submitted its grant application with its customer Quality Custom Distribution (QCD) - a national fast food restaurant delivery company - in mind, to fund 14 Class 8 battery electric trucks, two portable fast chargers, and eight in-ground fast chargers at QCD's Fontana site.  
The project is a five-year project with delivery of equipment expected to span two-and-a-half to three years. Volvo Trucks North America has delivered the first two trucks plus two portable fast chargers. Another eight trucks and the eight in-ground fast chargers are scheduled to be delivered in early to mid-2023. The last four trucks will come online between the end of 2023 and the beginning of 2024. The trucks will be operating in San Bernardino and Riverside Counties.
These new electric trucks will accompany the existing electric truck that QCD added to its fleet through the Volvo LIGHTS project; a battery-electric freight truck demonstration program.
This project is helping QCD convert its diesel fleet to an electric fleet, according to Chris Roback, VP, Sales and Customer Experience, VFS USA. "This grant is specifically helping Volvo with QCD to make the conversion to a more sustainable operation for the environment and California residents."
"What was unique about the MSRC's incentive program is that the financial services arm of the Volvo Group was able to apply for the grant versus the fleet operator," Roback noted. "What many don't realize is the importance of financing and leasing to support this transition of fleets from diesel to battery-electric vehicles. So, the funding side of the equation with the MSRC and VFS will allow us to make it easier for our customer to convert their fleet."
And QCD is happy with making this transition. "We were excited to partner with Volvo on a fleet electrification initiative at our Fontana, California facility," said Shane Blanchette, Vice President, Continuous Improvement at QCD. "The support from MSRC in partnership with Volvo and our dealer GTR (Gateway Truck and Refrigeration) allowed us to begin the journey of achieving our sustainability goal of net zero carbon emissions. The process in procuring and financing the VNR Electric Trucks through Volvo was a positive experience. Although supply chain challenges continue to exist across many facets of our industry, strong partnerships, communication, and teamwork ensures any challenge can be overcome. The VNR Electric Trucks are performing very well, and we continue to receive great feedback from our driver associates."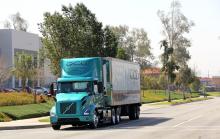 "Working with the MSRC has been a good experience for us, and they are a great team" explained Roback. "The assistance, guidance, flexibility, thoughtfulness, and the ease in which we were able to apply for and document the grant, and then begin to fund the grant is quite evident. They have been extremely helpful in walking us through their process, and we would certainly welcome the opportunity to utilize the MSRC again."
The Volvo team is excited about the project. Roback observed that there's a mantra within the Volvo Group that we shape the world that we want to live in. "This project fits the definition of that mantra very well, and it really has meaning to us at the Volvo Group."