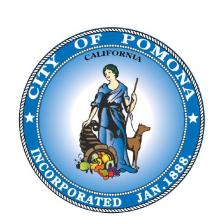 The City of Pomona is making bicycling safer and faster for the community thanks to a new bicycle detection system recently installed along one of the city's major thoroughfares. The City upgraded its traffic system with the newest video technology. When a bicyclist is present at an intersection, the system detects the bicyclist and triggers the signal helping to maintain the traffic flow.
The City expects this project will help increase bicycle ridership. This in turn will help reduce emissions by getting people out of their cars and onto bikes. Estimates are that the number of daily bicycle commuters in Pomona will increase from about 1,400 to nearly 4,000 by 2020. Additionally, fewer cars on the roads means less congestion for everyone and better traffic flow, which reduces vehicle idling.
The MSRC helped fund the new bicycle detection system for ten synchronized intersections along Garey Avenue between Mission Boulevard and Country Road, adding to the completion of twelve intersection upgrades in total. The MSRC's $440,000 grant helped fund upgraded underground conduits, new wiring, controllers, updated signal timing and the new video system. These upgrades allow the traffic signals to be activated when a bicycle or vehicle is present, rather than operating on pre-set times. If no vehicle or bike is detected, the signal will not be triggered.
"The City was thankful to be a recipient of the MSRC funds," noted Ron Chan, Pomona Senior Civil Engineer. "These improvements help reduce congestion along the corridor with synchronized signal timing and upgraded video detection systems, which will relieve congestion and reduce greenhouse gas emissions on a daily basis."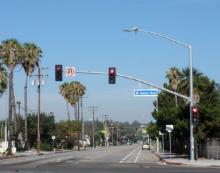 This project was one of the many identified in Pomona's 2014 Active Transportation Plan. The plan was designed to improve bicycling and pedestrian infrastructure to reduce traffic, air pollution and energy consumption and to provide greater transportation options that enhance residents' quality of life. The City continues to make improvements to its bicycle infrastructure and recently embarked on a project to design and construct ten miles of new bike lanes and other pedestrian improvements. The City's active transportation network will be more than 50 percent complete once these bike lanes are finished.
"The City will continue our efforts in air pollution reduction with on-going projects and looks forward to working with the MSRC on other projects," Chan commented.