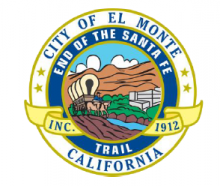 The City of El Monte is doing its part to help improve local air quality by purchasing the first ever zero-emission heavy-duty vehicle in the city's fleet – a new electric heavy-duty flatbed work truck. The Public Works Maintenance Department will use the new 2019 Ford E-450 Super-duty flatbed truck for maintenance activities throughout the city. It is the main vehicle they use to service their transit and trolley stations.
During COVID times, the City has pulled the vehicle out of typical service and is using it to bring food to the community – so it's doing double duty of bringing clean air to the community as well as delivering needed supplies.
The City also invested in EV infrastructure to support its new e-truck by installing two level 2 dual-port EV charging stations at the Public Works Yard, so that four vehicles may charge at the same time. In addition to increasing the charging capability for the city's EV fleet, city employees will be able to use these stations to charge their own personal vehicles.
To support the City of El Monte, the MSRC provided more than $68,000 in Clean Transportation Funding through its 2017 Local Government Partnership Program. The Program was designed to forge partnerships between the MSRC and cities and counties within the South Coast region to "jumpstart" implementation of the South Coast AQMD's 2016 Air Quality Management Plan (AQMP).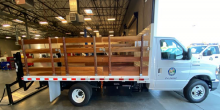 "The new charging stations will assist the City of El Monte in achieving local success in reducing mobile source pollutants," said Christopher Ortiz, Public Works Superintendent. "It also will help the City with acquiring needed infrastructure as the City begins to transition into electric powered vehicles." The City currently has four EVs in its fleet. "We would like to get more if we can find the funding because the City thinks this is the way to go – stay green, use less natural resources and have clean air."

In order to implement the project, the City needed to solicit bids from potential EV charging installers during the COVID-19 pandemic. Despite a slight delay to accommodate socially-distanced site visits from prospective bidders, after a few months, the City selected a vendor and the installation went smoothly.
The City's new electric flatbed truck shows how different types of heavy-duty electric vehicles are beginning to fill critical needs for cities and are successfully penetrating the market with success.