The MSRC Continues its Celebration of 30 Years of Clean Transportation Funding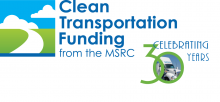 We are featuring six more iconic/prototypical clean transportation investments that the MSRC has made through the years as part of celebrating three decades of transformative projects that have helped clean up our air: 
Metrolink to the Auto Club Speedway (2011-2014)
The MSRC partnered with Metrolink (the Southern California Regional Rail Authority) to bring NASCAR fans to the Auto Club Speedway in Fontana for the Auto Club 400 NASCAR race held annually in March. Three special trains originated from Lancaster, Oxnard and Oceanside with multiple stops to take fans to the Speedway to introduce and encourage the use of public transportation. The special train service had a direct impact on reducing emissions from vehicle trips to the Speedway because it cut down on car trips – hundreds of vehicle miles traveled – that would have occurred without the service; the Oxnard line saved up to 110 miles one-way to the Speedway; the Lancaster line saved up to 116 miles one-way; and the Oceanside line saved up to 110 miles one-way.
Rossmoor Pastries CNG Delivery Vans (2009)
Rossmoor Pastries in Signal Hill wanted to do its share to reduce emissions contributing to air pollution in the South Coast Air Basin. After much thought, Rossmoor Pastries decide to "go green" by purchasing an entire fleet of CNG vehicles consisting of eleven vans and one car. To fuel its fleet, the bakery also installed a CNG fueling station to allow convenient fueling of the CNG vans that deliver its pastries, cakes, and sweets. Charles Feder (pictured in photo), owner of Rossmoor Pastries, said this was an opportunity to do his part to leave his grandchildren a better environment to live in.
School buses and infrastructure (multi-year)
Over the years, the MSRC has funded many CNG school bus and fueling station projects to eliminate the dirty diesel fumes children would inhale while riding to school every day. On average, a school bus in California can emit more than 13 pounds of particulate matter and 460 pounds of smog-forming pollution each year. Replacing a 1988 diesel school bus with a new CNG bus can reduce soot pollution by 75 percent. CNG buses can also reduce emissions of smog-forming pollutants by approximately one-third. Some of the school districts that have benefitted from MSRC funding include: Menifee, Rialto, Perris Union, Bear Valley, Arcadia, Moreno Valley, and Mountain View.
Ports Clean Trucks Program (multi-year)
In 2002, the MSRC contributed nearly $2.5 million to the Gateway Cities Council of Governments for its Truck Fleet Modernization Program, designed to provide incentive grants for older model diesel trucks toward the purchase of newer, cleaner trucks operating in and around the Ports of Los Angeles and Long Beach. In 2003, the MSRC provided $1 million to the program for replacement of model year-1983 and older trucks with newer lower-emission diesel trucks. The MSRC's participation in the program was so successful that in 2005, it provided nearly an additional $1.5 million to help offset the costs of replacing model year-1986 and older trucks. This second round of funding was expanded to target independent owner/operators of high-polluting trucks that were in most need of financial assistance and added an outreach component to ensure broad-based participation throughout the South Coast Air District. The Ports Clean Trucks Program has reduced air pollution by more than 90 percent since its inception.
Traffic Signal Synchronization Projects (multi-year)
The MSRC has helped many municipalities synchronize their traffic signals and update their traffic management systems to help improve the flow of traffic and reduce vehicle idling, thereby reducing emissions. In 2014, the City of Riverside partnered with the cities of Corona and Moreno Valley and Riverside County to install real-time roadway monitoring equipment, develop coordinating timing plans, install count stations to sample traffic volumes and establish communication links between the traffic management centers of Riverside, the other partners, and Caltrans, synching up more than 150 traffic signals in the area. In 2017, OCTA upgraded intersection equipment for control and communications, and installed many miles of conduit and fiber-optic interconnect cable to help synchronize 132 traffic signals over 38 miles of local roadways.
Sukut Construction Repowered Equipment (2007)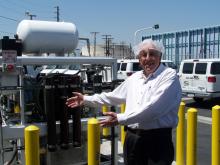 The MSRC helped repower 12 of Sukut Construction's heavy-duty scrapers – a crucial piece of equipment for grading a construction site (see before photo). Since construction equipment had no emission requirements at all until 1996, and most equipment is kept for a very long time–often as long as 30 or more years–cleaning up equipment through natural turnover can be a very slow process. Among the most cost-effective ways to dramatically reduce emissions from construction equipment is to repower – or replace the engine completely. Once Sukut's equipment was repowered, it operated visibly cleaner and was easier and smoother to drive. The new engines reduced NOx and PM emissions by 400 percent, replacing its1970s-era equipment.
Stay tuned for the next edition of Clean Air Roadmap this summer to read about six more exciting MSRC projects and to continue celebrating the MSRC!